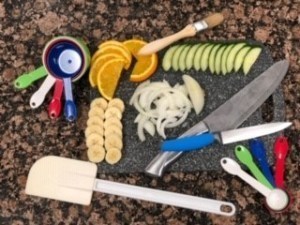 Welcome to the Culinary Arts Program!
Seacoast Christian Academy
Friday, October 25, 2019
Designed for high school students interested in exploring the creative and technical side of culinary arts. The emphasis of this course is placed on becoming a chef. This year-long program consists of lab days in the kitchen, as well as, basic cooking, food preparation and presentation. To top it off students will love taste testing their own creations!
Jeff Wainright or "Chef Jeff" as we like to call him has been part of the Seacoast Family since 2017. He is a professionally trained chef and has experience in various types of cuisine as well as restaurants that range from quick service to fine dining. Chef Jeff developed his love for cooking by watching and helping out with his mother and grandmother in the kitchen. Both woman have had a huge impact on the development of his style and type of cooking to this day. After studying at Le Cordon Bleu College of Culinary Arts, Chef Jeff earned his Associates Degree in Food Science. Chef Jeff has worked in the foodservice industry for 8 years and is passionate about all things food related. Chef Jeff has always had a passion for teaching students about food as well as the science behind it and is excited to be the instructor of the Culinary Arts Program at Seacoast. Prior to becoming the Culinary Arts Instructor Chef Jeff worked as Line Cook, Waiter, Prep Cook, Manager, to name a few. With the experience he has in the food service industry, he will be able to teach students about every aspect of food that they could possibly want to know. Chef Jeff's hobbies include singing, painting, cake decorating, and studying the bible. He is married with 1 son, Oliver who is his pride and joy. Ask to see pictures, we're sure he has some! He is currently in the process of getting is Bachelor's Degree in Food Nutrition so that he may expand his knowledge in the Nutrition aspect of the Foodservice industry. A few quotes that are favorites of his is are; "Cooking well doesn't meant cooking fancy" -Julia Childs "Life is uncertain. Eat dessert first." -Ernestine Ulmer "You'll never know everything about anything, especially something you love" – Julia Childs
What You'll Learn!
Fall Semester
✓ Career Exploration
✓ Basic rules of food safety and sanitation
✓ Food-borne Illnesses (safe food temps, basic cooking and handling methods)
✓HACCP Program
✓ Food Handler's Certificate
Spring Semester
✓ Knife Skills
✓ Meat, Poultry and Vegetable preparation
✓ Basic sauces, sandwiches, bakery and pastries
✓ International Cuisine
✓ Food plating and presentation